38 Year Old Tummy Tuck Patient, Mother of 6
Procedure Details
This 38 year old woman has had 6 children, all by vaginal delivery with her largest weighing 9- pounds, 3- ounces. She is 5'1" tall and weighed 195 pounds prior to surgery. Her very large pannus was removed and her marked rectus diastasis was repaired which resulted in a flat abdomen. She was thrilled with her result.
More
Front View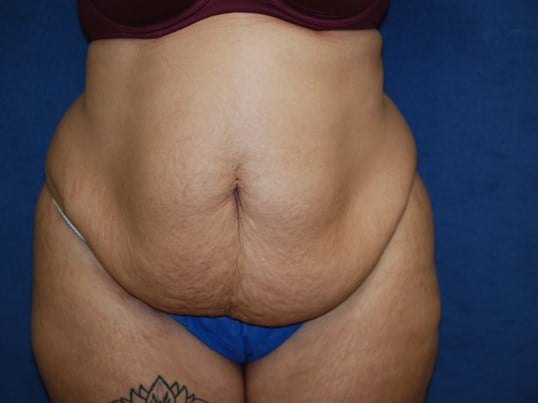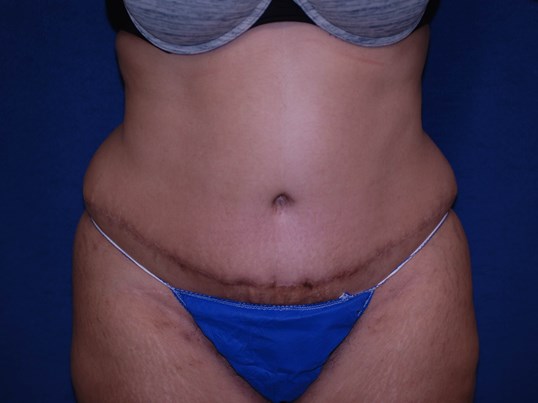 This 38 year old mother of six children underwent a full abdominoplasty which markedly improved her abdominal contour. The weight of the resected skin and fat was over four and a half pounds. Her muscle tightening was considerable and was an important aspect of her procedure and result. Note, also, the improvement in the appearance of her umblilicus. More
Oblique View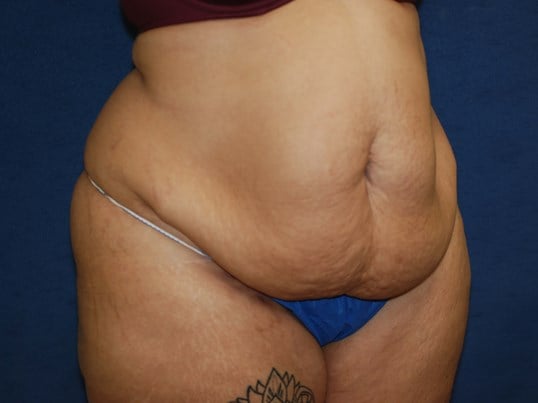 Side View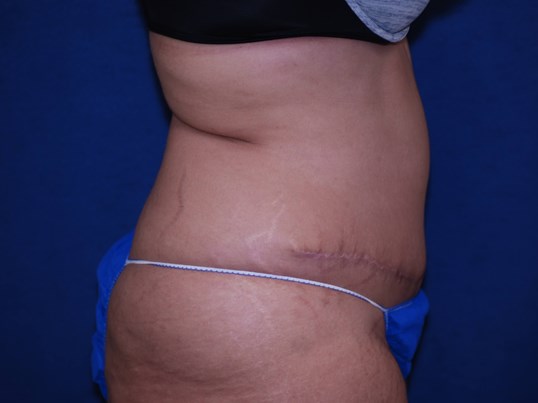 This amount of muscle tightening helps with posture in addition to improving contour. More
Abdominoplasty After Pregnancy
This case highlights the typical abdominal contour changes that occur after pregnancy. These changes usually include loose skin that may or may not hang over the mons pubis, abdominal muscle weakness with a protuberant tummy that may still look pregnant, and stretch marks. A full abdominoplasty can improve all these problems as it did in this case. The resulting scars are along the lower abdomen just above the pubic hairline and around the umbilicus.
Abdominoplasty does not address hip fullness which this patient desired to keep. If a patient wishes to decrease the size of the hips, this can be accomplished with some additional liposuction at the time of the tummy tuck as long as the skin tone in this area is good. If there is loose skin in addition to hip fullness, the tummy tuck can simply be extended to the hip and flank area to remove the excess fullness and tighten the skin in these areas. All procedures are customized to address each patients areas of concern, safely and effectively.
Location